Original Story:
http://www.7newsbelize.com/sstory.php?nid=28166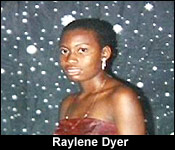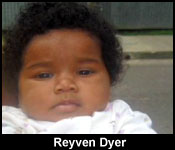 In October of 2010, one of the most shocking murder stories we've ever reported on made national headlines: 18 year-old Raylene Dyer was allegedly decapitated and dumped in a river, so that her 3 month old baby could be stolen and given to another woman - who masterminded the crime. 3 men were accused of killing her but on Wednesday they were acquitted before Justice Denis Hanomansingh.The main evidence against all 3 men were that they confessed to the crime, and supposedly gave police intimate details as to how they killed Dyer, slit her throat, chopped off her head, and dumped her body into a river near a slaughterhouse in Valley of Peace in October 2010.
But, the accused claimed that police obtained those confession statements by force. They say that they only gave the caution statements because the police brutalized them into it.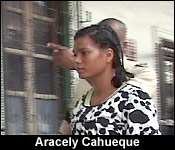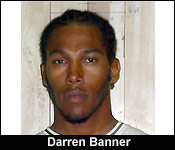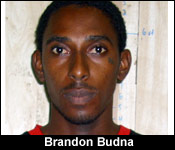 Because the officers could not convince the court that they followed procedure when handling the written confessions, those statements were thrown out, and Justice Hanomansingh directed the Jury on Wednesday to return a formal verdict of not guilty. With that, Darren Banner, Jason Anderson, and Brandon Budna were able to walk out of court free men after being on remand for more than 3 years. Now, the alleged mastermind Aracely Cahueque is the only one who stands accused.Today, 7News caught up with Dyer's family to get a reaction to the outcome. Daniel Ortiz found out that the family didn't expect an acquittal. Here's his story:
Daniel Ortiz reporting
Rayven Dyer is beautiful and intelligent child, very self-aware, and charming. Her aunt, who is now her guardian, has made a huge effort to shield her from the effects of the violence, which claimed her mother's life. It's hard to believe that this baby was the centerpiece of a plot which saw her mother violently killed so that she could be abducted as an infant.
Reyven Dyer - 3 years old
"Hi."
Reporter
"What's your name?"
Reyven Dyer - 3 years old
"Reyven."
Reporter
"And you are going to school?"
Reyven Dyer - 3 years old
"Yes."
Reporter
"Which school you are going to?"
Reyven Dyer - 3 years old
"Kiddies Campus."
Reporter
"And how old are you?"
Reyven Dyer - 3 years old
"Three."
Reporter
"Wow, what do you like to do in school?"
Reyven Dyer - 3 years old
"Running and hopping."
Reporter
"What else?"
Reyven Dyer - 3 years old
"My mom likes to jump over the gates."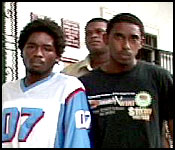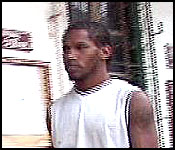 The 3 men, Darren Banner, Jason Anderson, and Brandon Budna who were accused of slitting Raylene's throat, cutting off her head and dumping her body into the river, were acquitted in the Belmopan Supreme Court on Wednesday. That was a shock to Raylene's family who were looking to this trial as a doorway to closure.?
Indira Cayetano - Sister of Deceased
"We were very disappointed, but like my mom said she doesn't know why she setup herself and had hope that our judiciary system would have worked. At first I was really angry, I was mad and then I spent some time trying to pray, because it's kind of hard to pray when you are going through a disappointing time, but with good people around me like my co-workers I started to feel positive again and I said you know what God is the ultimate judge, he doesn't sleep and he sees everything."
But it can't be forgotten that Raylene was torn out of her family's life. Her daughter has never had the joy of knowing her mother. She only has pictures and memories that the adults share with her.
Indira Cayetano - Sister of Deceased
"My niece has been the best thing that has happened to us within all the pain, with all the hurt. She is so happy; she is like the real legacy that anybody would have asked for. With her in our lives it takes our mind from some of the hurt because it hurts me when I see my mom paining and I can't do anything. When my mom starts to suffer with enlarge heart and high blood pressure and she is so sick and nervous, like just the impact of losing a child and never put closure, it had a great impact on her and nobody knows the true story except her."
"She is small, it was only two days since she turned 3 months when they had stolen her and we haven't really told her. The only time she saw Raylene like that - the time when we put her memorial picture on Love FM and she said that's my Raylene Dyer and she know Raylene is her mom but she doesn't have the understanding of death as a baby. As she gets older then we will tell her some more."
Daniel Ortiz
"Do you guys dread that conversation?"
Indira Cayetano - Sister of Deceased
"We won't dread that conversation because I feel strong enough as a God fearing person he will give us the words to say to her."
Alleged mastermind Aracely Cahueque, is currently now on trial before Justice Hanomansingh in which a new jury has been empaneled to hear her case. She is being tried alone for abetment to commit murder. Her attorney is Dickie Bradley. Since the confession statements of the men have been thrown out, Bradley wants Justice Hanomansingh to refuse to admit them as evidence against Cahueque. Her trial continues on Monday, and we'll keep following it.