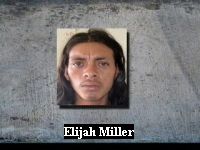 29 year-old Elijah Miller, a resident of Orange Walk, is at Prison tonight awaiting sentencing after he was convicted of causing the death of his stepson.
As viewers may remember, Miller was accused of beating 2 year-old Ezekiel Tejeda to death on July 1, 2009. The child's mother alleged at that time that Miller threw Ezekiel in the air, stoned him with a pint bottle and shook him. She realized that something was wrong with her baby, and took her to the Northern Regional Hospital. The doctor said that the child was fine, but a short while after, he had to be rushed to hospital a second time, where he died of complications originating from abdominal trauma after he received multiple bruises to his abdomen, bowel, and intestines.
Miller stood trial before Justice Herbert Lord in the Northern Sessions of the Supreme Court, and after deliberations, the jury of 12 found him guilty of manslaughter on Friday night.
He will be sentenced March 27.
Original Story: http://www.7newsbelize.com/index.php#story6